2014, July/August Mureck (Austria)

12th EU Youth Chess Championship
and

21th International Styrian Youth Open



all tournaments:
30.07.-07.08.2013, Mureck - Kulturzentrum


12th EU Youth Chess Ch. U08-U14
U09: results and games, U11: results and games
U13: results and games, U15: results and games

LIVE GAMES


21th International Styrian Youth Open
U08-10: results and games
U12-18: results and games


Archiv/Specials
EUYCC 2013, EUYCC 2012, EUYCC 2011,
EUYCC 2010, EUYCC 2009, EUYCC 2008,
EUYCC 2007, EUYCC 2006, EUYCC 2005,
EUYCC 2004, EUYCC 2003.


Links
www.europechess.net (ECU)
www.jugendschach.at
Mureck, Kulturzentrum
www.teichundhuegelland.at

Photos
see our Web-Gallery Mureck 2014




NEWS
07.08.2014, the new EU Champions
The 12th European Union Youth Championships finished yesterday in Mureck. Nine rounds were played to create the new champions: Sergeev Vladimir Petrov (BUL, B U15), Karmela Mican (CRO, G U15), Aras Jonas Lazaravicius (LTU, B U13), Ana Urbanc (SLO, G U13, Augustas Gucaga (LTU, B U11), Nusa Hercog (SLO M U11), Erik Hajpek (CRO, B U09), Katharina Katter (AUT, M U09).

Croatia, Lithuiania and Slovenia win each two gold medals, Bulgaria and Austria each one. Thanks to organiser Erich Gigerl and chief arbiter Wolfgang Horvath the tournament was in good atmosphere without big problems. Karl Theny broadcasted the games in the Internet.

Congratulation to all the Champions!!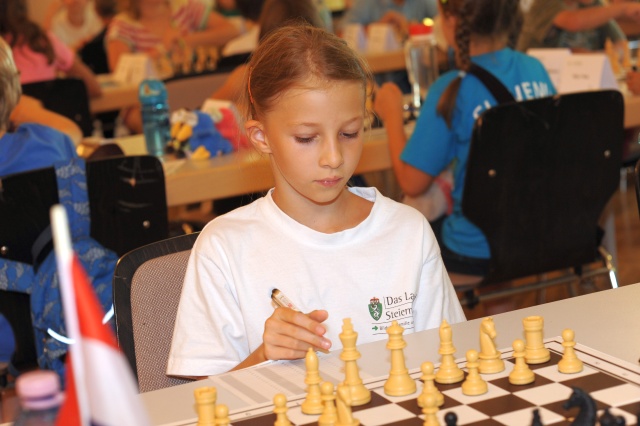 Katharina Katter (Austria, U09)
01.08.2014, Photos of all EU groups
Three rounds are played in the European Union Youth Championships 2014 in Mureck.

In the

age group U-09

Erik Hajpek from Croatia leads with 3 points, followed by Jurgen Gusson (EST) and Ivan Tagarev (BUL, both 2,5). Best grils are Katharina Katter (AUT) and Anna Lhotska (CZE) both with 2 points.

Single leader in

U-11

ist Augustas Gucaga from Lithuania. He has three points and is half a point ahead to Gergana Peycheva from Bulgaria, the best girl.

Another three points leader is Ana Rubanc from Slovenia in the age

group U-13.

Elia Giesinger (SUI) and Aras Jonas Lazaravicius (LTU) have both 2,5 points.

Finally in the

age group U-15

the Bulgarian Vladimir Sergeev Petrov is also ahead without the loss of a point. With a rating from 2055 he is the big favorit. Close to him are Yisam Duong from Switzerland and Matys Szucs (CZE). Best girl is Alina Mundstein (AUT) with two points.

You can find fotos from all age groups in our Web-Gallery Mureck 2014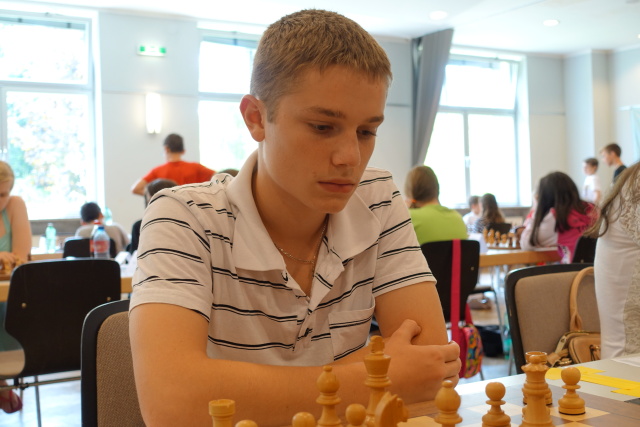 Vladimir Sergeev Petrov
30.07.2014, General Information
European Youth Chess Championships starts on 30th of July in Mureck. You will find all results and games in the tournament database of "chess-results.com". Notice that this pages are available immediately after each round. Chess-Results offers different languages.

We hope you enjoy our services and this event. Donīt hesitate to ask for photos in a better quality or any other informations for media or your websites.



Website of the
Austrian Chess Federation

Back to Specials


Contact
TD: Erich Gigerl
Media: Walter Kastner